Leestijd:
4
minuten
Voor mij gelden twee dingen: 1. Schrijven is een hobby, 2. mijn fantasie is vaak groter dan goed voor me is. Dus, ik had volledig uitgedacht dat ik rond Sinterklaas in gedichtvorm ging schrijven en met kerst zou ik een 'ode aan mijn dagelijkse fietsroute' brengen. Maar, beide dingen hebben weinig te maken met wat er binnen KPN gebeurt – en was dat niet juist de bedoeling van mijn blog? Deze keer kijk ik terug op een periode waarin ik nogal een kritische blik had.
 De voortgang
Het begon allemaal goed en zoals jullie in mijn vorige blogs lazen waren mijn doelen concreet. Ik ging gestaag doorwerken aan het WLS onderzoeksproject en mijn kennis verbreden – twee punten die waarschijnlijk nog lang bovenaan mijn lijst blijven staan. En ik dacht: "Lekker, met mijn volgende presentatie laat ik allemaal nieuwe features zien!"… maar dat bleek nogal een naïeve gedachte.
De afgelopen weken was ik (op z'n zachts gezegd) ontevreden over mijn voortgang. Soms zat ik op mijn (nieuwe) bureaustoel naar buiten te staren en te bedenken wat ik tot dan had gedaan. Dan besefte ik dat ik vooral dingen had uitgezocht, maar dat ik aan het werkelijke bouwen nog niet was toegekomen. Zo ben ik anderhalve week bezig geweest met het werkend krijgen van een licentie… tot frustratie toe. Of besloot ik op een studiedag de documenten door te nemen die ik van de collega's gekregen gehad om de projecten beter te begrijpen (wel zo leuk, dan begrijp ik ook daadwerkelijk waarover ze het hebben). Al was dan het resultaat vooral dat ik er nog minder van begreep, omdat ik alleen maar nieuwe termen tegenkwam en zo nieuwe vragen kreeg.
Misschien begrijpen jullie mijn situatie door het onderstaande plaatje, dat ik speciaal heb gemaakt omdat ik de tip kreeg meer met beeldmateriaal te werken:

Ik werd getroost door mijn ervaren KPN-collega's: "Zo gaat het nog wel langer dan een jaar voelen," en "Maar je moet ook niet álles willen snappen." Tja, mijn leeslijst is dus voorlopig nog niet leeg…
Het gat tussen de technische kern en wat de klant meekrijgt
Laatst bezocht ik de presentatie over KPN als 'Operator of the Future'. Ik besloot erheen te gaan, omdat ik het heel interessant vind te weten wat KPN nu daadwerkelijk naar de klant brengt. Door daarover meer te leren, hoop ik mijn vrienden beter te kunnen uitleggen hoe ik bijdraag aan de diensten van KPN – want als ik zeg dat ik aan de infrastructuur van een datacenter werk, kunnen zij daar vrij weinig mee.
Helaas bleef ik onvoldaan achter, opnieuw met allemaal nieuwe vragen. Ik probeerde de presentaties direct te koppelen met het KPN-netwerk hoe ik dat tot nu toe heb leren kennen, maar kon de genoemde technologieën nauwelijks voor me zien. Als ingenieur van de technische kern lijk ik oneindig veraf te zitten van wat er voor de klant nu daadwerkelijk gebeurt. Of komt het omdat ik (nog steeds) relatief kort bij het bedrijf zit?
Zo stond ik ook met mijn mond vol tanden toen ik met JongKPN naar Tony Chocolonely ging voor een kijkje in de keuken – en dat overkomt mij niet vaak. Het was een fantastische middag, waarin ik gezellige mensen uit heel KPN heb leren kennen en veel chocola heb mogen snoepen (ik zal jullie verlekkeren met een plaatje). Maar, als ik iemand vroeg wat hij/zij nu deed bij KPN, dan snapte ik daar net zo weinig van als die ander op het moment dat ik hem/haar probeerde uit te leggen wat ik doe. Simpelweg omdat je in zo'n ander deel van de organisatie zit, dat je je niet kan voorstellen wat er nog meer gebeurt. En dat is jammer.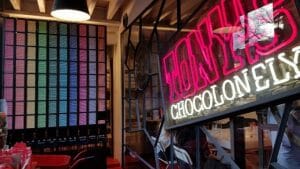 Heel anders was het toen ik uiteten ging met een groep jonge KPN 'techies' die mij – een soort van –hebben geadopteerd. Ook wij probeerden elkaar uit te leggen waar we mee bezig waren. Gelukkig hoor je dan een paar technische termen die je je nog herinnert van je studie en kan je je opeens een stuk beter inbeelden wat het allemaal inhoudt. Grappig dat dat zo'n verschil kan maken.
Leerpunten
Ondanks dat ik deze periode eigenlijk iets té kritisch was naar mijn zin, heb ik er gelukkig nog wel iets van geleerd. Zo moet ik:
m'n collega's niet te vaak lastigvallen met Disney wist-je-datjes,
licenties vooral proberen te mijden,
niet vergeten dat de remmen van m'n gloednieuwe fiets wél werken,
altijd tevreden zijn met elke stap die ik zet, en
mezelf vervolgens lekker belonen met leuke cadeautjes:
Zo gaf ik mezelf een BB8 van Lego (hij is af, zie foto). 
Wist-je-dat trouwens de nieuwe Star Wars bijna uit is in de bioscoop? (O wacht, ik mocht niet te veel afdwalen… Excuses).