Leestijd:
4
minuten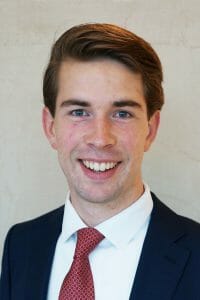 Om jullie een indruk te geven van hoe je eerste week eruit komt te zien, heb ik een dagboek bijgehouden. Belangrijk om te onthouden is dat een eerste werk week voor iedereen er iets anders uitziet. Natuurlijk zit er een rode draad in, maar je dagen kunnen afwijken aan de hand van of je meteen op een project begint of niet, en of je bijvoorbeeld tijdens de POW begint (waar mijn collega Koen over schrijft).

Maandag
De eerste werkdag op een project heeft in bepaalde opzichten natuurlijk iets geks. Voor mijn sollicitaties heb ik me natuurlijk wel voorbereid en kennis gemaakt met de manier van problemen oplossen, maar wat er nou echt komt kijken bij zo'n project wist ik niet precies. En omdat ik direct in week 1 al op een project zit, ben ik meteen in het diepe gegooid. Dat is natuurlijk wel een beetje waarvoor je dit werk gaat doen, dus leuk is het zeker. Na een ochtend Excel beter onder de knie krijgen en een afspraak met HR, betekende dit dat ik me wegwijs moest maken in een markt waar ik nog geen idee van had voor ik begon met lezen. Maar aangezien iedereen om je heen in dezelfde situatie heeft gezeten, zijn ze meer dan bereid je te helpen. Er wordt na dag 1 gelukkig geen wonder van je verwacht, wat het misschien wel des te leuker maakt dat je aan het eind van de dag in een meeting met de partner mee kan praten en gerichte vragen kan stellen. Los daarvan was het een ideale dag om collega's te leren kennen; was het niet bij het nieuwjaarsontbijt, dan kon dat onder het genot van een stuk verjaardagstaart. En voor de liefhebbers staat er altijd een voetbaltafel klaar.
Dinsdag
Waar de focus gisteren lag op het bekend worden met de markt, kon ik vandaag uit de voeten met het in kaart brengen van de competitie. Gelukkig wordt je niet helemaal aan je lot overgelaten, dus na een kort overleg met een collega uit mijn team was het zoeken geblazen. Dan wordt ook weer duidelijk dat de trainingen die je gaat krijgen wel echt handig zijn. Zonder al te veel kennis van jaarverslagen begin je de zoektocht, maar dat went vrij snel. Tussendoor heb ik nog kennis gemaakt met de dames van de receptie (en de bijbehorende uitleg gekregen), werd mijn auto afgeleverd en was er tussen het zoeken door tijd voor een pot tafelvoetbal. Na een dag ploegen in deze verslagen, introductiefilmpjes van bedrijven kijken op YouTube en websites doorspitten, kan je dan eindelijk beginnen aan het overzichtje in een slide. Gelukkig een heel eind daarmee gekomen, en morgen de resultaten bespreken. Benieuwd hoe dit precies zijn weg zal gaan vinden in het eindresultaat!
Woensdag
Vandaag ben ik begonnen met het afmaken van de slide van gisteren. Na een korte bespreking over hoe dit in het hele verhaal paste, ben ik gaan werken aan een ander stukje van het marktonderzoek. Een uitgebreide zoektocht en heel wat bronverwijzingen verder, vond ik precies de data die ik nodig had. Met een heerlijk Thais avondmaal heb ik de laatste slides gemaakt en ben ik klaar voor morgen. Voor het eerst sinds mijn begin een dag zonder meetings, maar de eerste goed verwerkte resultaten geven stiekem toch wel wat voldoening. Nog even het stukje dat jij nu leest schrijven en met een goed gevoel naar huis!
Donderdag
Wat ik vooraf niet in deze mate had verwacht, is dat ik me in zo'n korte tijd al thuis ben gaan voelen op kantoor. Het zal waarschijnlijk pas over anderhalve week bij de EY-Parthenon skitrip zijn, dat ik niet meer hoef na te denken over hoe iedereen heet, maar de onderlinge sfeer is top en dat merk je aan alles. Onder het motto "je kan niet altijd 6 gooien" vond ik vandaag, na een flinke zoektocht, niet voor alles de data die ik nodig had. Ik moet zeggen dat dat enige frustratie opleverde, waardoor vandaag niet in de boeken zal gaan als mijn beste dag ooit. Kan gebeuren, hoort erbij.
Vrijdag
In tegenstelling tot de afgelopen dagen werkte ik vandaag niet mee aan het project, maar had ik een hele dag communicatietraining voor de boeg. Het was een ongelooflijk interessante training die ik samen met drie andere starters deed. Door de kleine groep kon er dieper ingegaan worden op persoonlijke verbeterpunten en was het enorm interactief. Dat ik veel zou leren bij EY-Parthenon was zeker een van de redenen waarom ik hier wilde gaan werken en zo'n training is daarvoor natuurlijk top. Tussendoor kreeg ik te horen dat mijn werk van gisteren toch waardevoller was dan ik in eerste instantie dacht en bovendien hebben we toegang gekregen tot de database waarmee we flink uit de voeten kunnen! Na een dag lang leren en oefenen met spreken, luisteren en (een klein stukje) interviewen komt mijn eerste volle werkweek tot een einde.
Mocht je hier nog vragen over hebben, dan kan je contact met mij opnemen via sjoerd.baardman@parthenon.ey.com. Ik heb zelf in mijn oriëntatie-/sollicitatieperiode ook veel gehad aan hulp van anderen, dus schroom vooral niet!