Leestijd:
2
minuten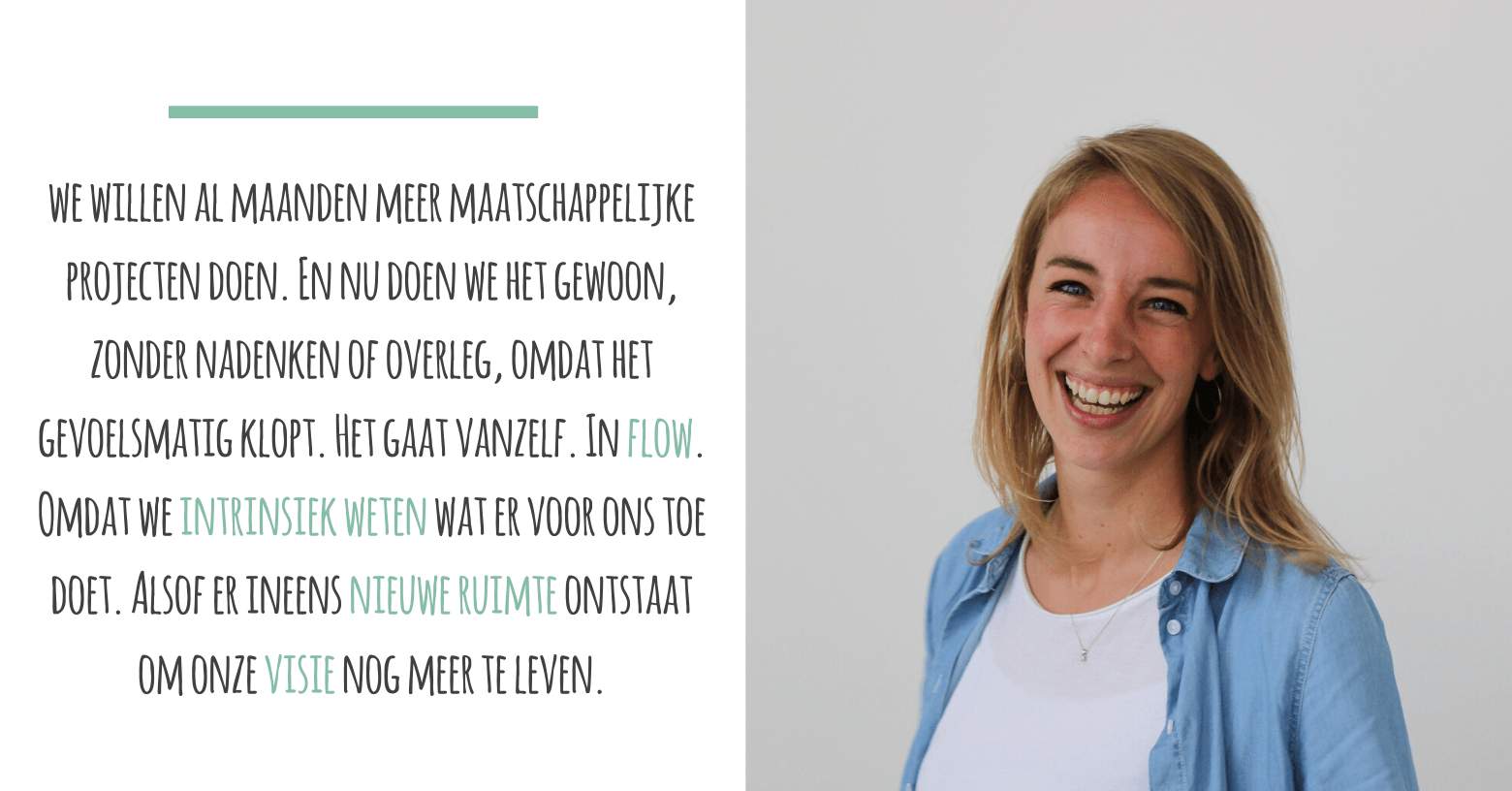 "Wat is jouw visie op leiderschap in deze tijd van Corona?" 
Komende tijd delen we de overpeinzingen die opkomen bij deze vraag van 
Réal
, 
Els
, 
Piter Jan
 en Anne, de eigenaren van Young Colfield. Hardop denken over wat leiderschap is, voor onszelf, voor Young Colfield en wat deze tijd daarin losmaakt en betekent.
Anne aan het woord: "Alsof er nieuwe ruimte ontstaat om onze visie nog meer te leven."
Wij willen al maanden meer maatschappelijke projecten doen. En nu doen we het gewoon, zonder nadenken of overleg, omdat het gevoelsmatig klopt. Het gaat vanzelf. In flow. Omdat we intrinsiek weten wat er voor ons toe doet. Daar ben ik trots op. Alsof er ineens nieuwe ruimte ontstaat om onze visie nog meer te leven die we eerder nog niet durfden te pakken. Dat is merkbaar bij onze samenwerking met Dankaandezorg en de gratis crowd consulting sessies die we aanbieden voor ondernemers in de problemen. Gelukkig ervaar ik voornamelijk rust, vertrouwen, anticiperen op wat er komt, Natuurlijk niet altijd. Maar ik geloof wel dat dat de beste weg is.
Ik geloof en voel dat wanneer ik vertrouwen uitstraal, een ander dit ook kan voelen, en wellicht zelfs overneemt. 
Lastige gevoelens, emoties, gedachten bij een ander kunnen bij mijzelf ook leiden tot onrust. Vragen. Twijfels. Ook al ga je dit in het begin misschien het liefst uit de weg (althans ik) weet ik dat dat hier samen vanuit nieuwsgierigheid naar kijken en er over in gesprek gaan vanuit openheid, transparantie en vertrouwen de weg is. En dat wordt steeds maar weer bewezen. Vanuit daar kunnen er alleen maar mooie dingen ontstaan.
Maar niet alleen lastige gevoelens, gedachten en emoties zijn overdraagbaar. Dit werkt ook andersom. Zo kun je ook een ander meenemen in de energie van de oplossing. Het zonnige stuk. Holding the Space. Daar waar nieuwe mogelijkheden ontstaan. Vertrouwen is een bijproduct van handelen, en ontstaat niet door erover te praten, maar door te laten zien dat het er kan zijn. En dat vraagt wat mij betreft openheid, eerlijkheid, duidelijkheid, naar elkaar en naar onze mooie organisatie.
Maar naast holding the space is het ook af en toe gaaf en belangrijk om het podium te pakken. 
Naast de rustige energie van 'er zijn' is ook de actieve energie van 'spreken en handelen' belangrijk. Iets wat Piter Jan erg goed kan. Ons verhaal niet alleen voorleven, voelen, vertrouwen, maar het ook vertellen. 'Spread the word'. Zodat iedereen weet wat de koers is, de gelegenheid heeft om daar op te reageren of ter discussie te stellen en er betekenis aan te geven.
Het fascineert me daarnaast hoe ongemakkelijk het in deze tijd voelt om in een soort stand van 'onderhouden', 'verduren', 'volhouden', te bewegen. Altijd zijn wij in een dynamiek van meer, beter, innoveren, vernieuwen, opbouwen, groeien nog een beetje gaver, inspirerender en toffer. Nieuw is deze tijd waarin het (voor mijn gevoel) veel meer gaat over stabiliseren, in stand houden, even terug naar de basis en zorgen dat die goed is.