Leestijd:
3
minuten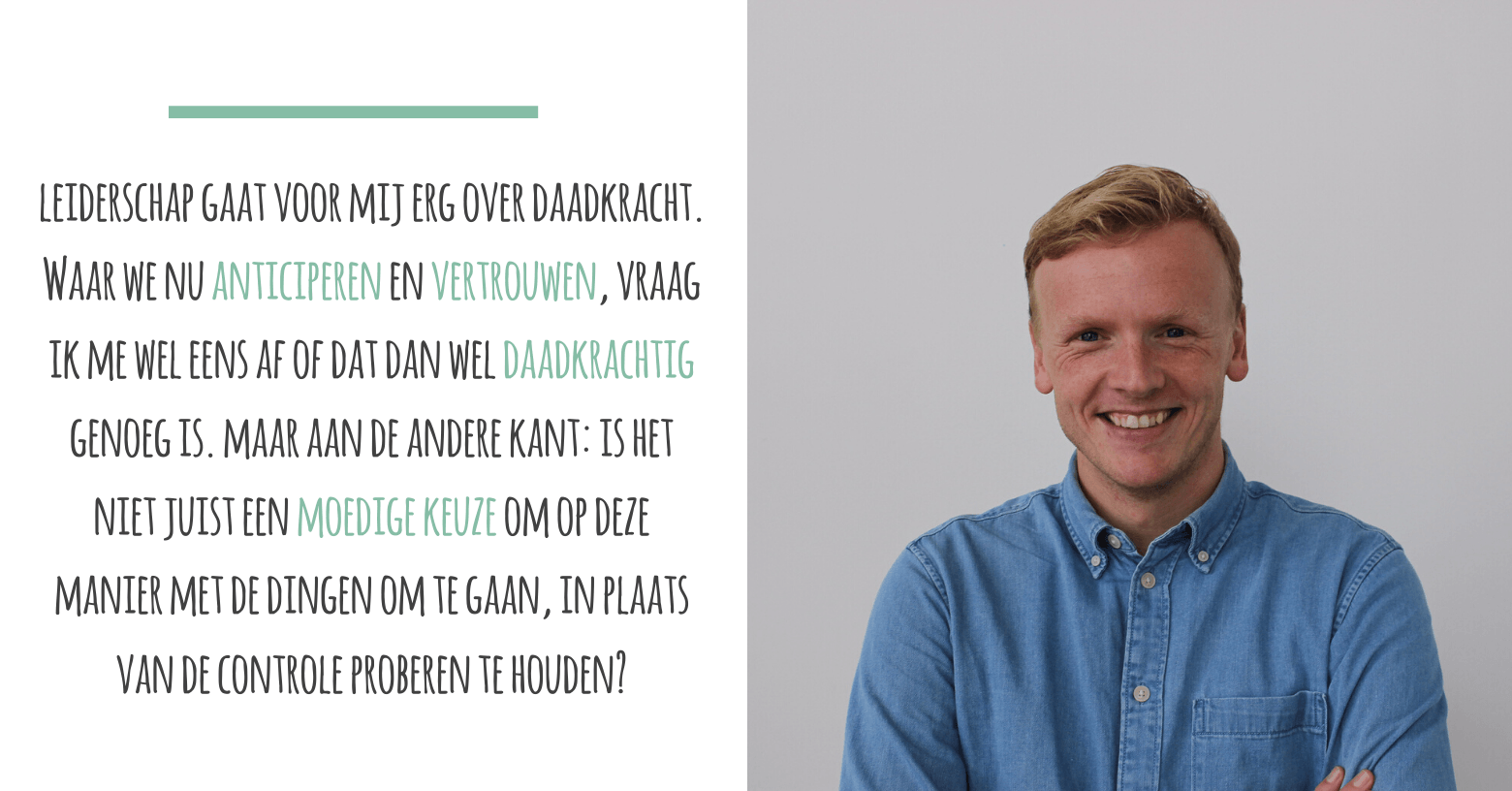 "Wat is jouw visie op leiderschap in deze tijd van Corona?"
Komende tijd delen we de overpeinzingen die opkomen bij deze vraag van 
Réal
, 
Els
, Piter Jan en 
Anne
, de eigenaren van Young Colfield. Hardop denken over wat leiderschap is, voor onszelf, voor Young Colfield en wat deze tijd daarin losmaakt en betekent.
Piter Jan aan het woord: "Wat is de gezonde balans tussen vertrouwen en controle?"
Voor mij gaat leiderschap over de juiste balans vinden tussen visie en realisme. Over de balans tussen vertrouwen en controle. Ik merk dat ik daar persoonlijk deze weken steeds tussen switch. Ik voel vertrouwen en vraag mezelf tegelijk af of we realistisch genoeg zijn, niet te naïef. Leiderschap gaat voor mij namelijk ook erg over daadkracht. Waar we nu anticiperen en vertrouwen, vraag ik me wel eens af of dat dan wel daadkrachtig genoeg is. Maar aan de andere kant: is het niet juist een moedige keuze om op deze manier met de dingen om te gaan, in plaats van de controle proberen te houden?
De afgelopen weken zijn best bijzonder geweest en zijn we met Young Colfield wat mij betreft misschien wel meer dan ooit 'visie-gedreven'. Ik sprak veel opdrachtgevers waarbij het gesprek niet meer alleen ging over de inzet van een trainee maar we het samen hadden over deze tijd en de huidige economie. Opdrachten of mogelijkheden voor trainees werden gecanceld, maar maatschappelijke samenwerkingen kwamen daarvoor in de plaats – iets wat we al langere tijd ook meer toe wilden voegen aan onze programma's. We communiceren veel met onze eigen mensen, zo eerlijk en open mogelijk. Wat er voor mijn gevoel voor zorgt dat iedereen bewust is van hoe het (bedrijfsmatig) met ons gaat.
Maar de kritische stem in m'n hoofd vraagt zich ook af of we wel genoeg voorbereid zijn. We merken de bedrijfsmatige impact van Corona, maar die is ook nog te overzien. Moeten we niet meer toekomstscenario's uitdenken? Kunnen we niet al meer weten? Wat als de omzet toch ineens met 80% terugloopt? Durven we dan daadkrachtig genoeg te zijn en stralen we hetzelfde vertrouwen uit, of vraagt dat scenario iets anders? En, welke vragen zijn angst en zitten goed leiderschap in de weg en welke vragen zijn realistisch en juist nodig om een organisatie goed te kunnen leiden?
Het voor mij een fascinatie naar 'wat is dan goed leiderschap?'
Ik volg de persconferenties, regeringsleiders, beursberichten en CEO's in praatprogramma's deze weken op de voet. En ben gefascineerd door hoe iedereen hierop reageert, hoe verschillend ook. Maar ik merk dat ik er minder snel een oordeel over heb. Sterker nog, ik zou best graag in gesprek willen met die bestuurder die het totaal anders doet. Dus wie weet, zoek ik dat wat op komende tijd. En hoop ik tijdens of na deze crisis weer een stap dichterbij te komen bij een nieuwe ervaring in wat 'goed' leiderschap is.
En dan ineens niet alleen meer als observant, maar ook als ervaringsdeskundige.
En als wij nu al de bagage hebben om dat op een goede manier te doen, dan is dat super – maar volgens mij is daar nog zoveel in te leren. En voor mij persoonlijk is de beste manier om dat te leren, door te doen en het te ervaren, zoals nu. Dus hoop ik aan het einde van dit jaar ook met jullie terug te blikken op een periode waarin leiderschap echt even getest werd. En we bleven staan.
Lees hier meer Young Colfield verhalen