Leestijd:
3
minuten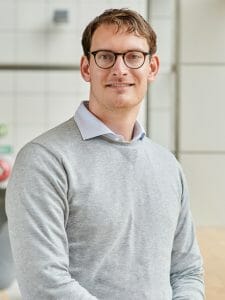 Name: Roel van Broekhuizen
Track: Investments
Studied: Business Administration: Financial Management
Trainee year: 2020
Why did I apply for this track?
 The first time I got into contact with NN was at the Amsterdam Career Days in March 2020. I had almost completed my Master's degree and had signed up for various events at the ACDs to explore employment opportunities. As soon as I attended the NN Business Case I had a great feeling about NN and the investments track. The business case was the last in-person NN event I could attend due to Covid, but I spoke to various Trainees before and during the interview process. These conversations, and the fact that everyone was so enthusiastic and eager to tell me more about NN, solidified the feeling I had experienced during the first business case.
Team Effort
I draw a lot of energy from working with a team towards a common goal, which explains why I have been involved in team sports since I was young. The bonding that occurs when you struggle together to overcome challenges creates a connection that is hard to achieve otherwise. These challenges also provide an opportunity to find and exceed your limits, something I find extremely rewarding. These are all elements I also recognized in the traineeship, where you will enter a challenging program with a steep learning curve. You will do this as part of a team: the pool of other trainees, the team where you will do your assignments, and NN as a whole. I experienced (and still do) NN as a warm, ambitious, hardworking, and humble culture, exactly the team environment I was looking for. An important aspect of this culture is that there are many opportunities to socialize with colleagues after work, even in the current online setting.
Investments
My previous experiences have been diverse and spanned across various academic fields (international relations, macroeconomics, and financial management). To me, Investments is similar in its diverse nature, making it extremely interesting. It often relies on quantitative and mathematical approaches to make predictions and estimate risk, while it is still exposed to a behavioral element. This makes it a puzzle that is impossible to solve to perfection, and our task is to get as close to a solution as possible. These characteristics also make it a very innovative field, where new strategies, theories, and methods can have a large impact on your performance. This innovative aspect is very visible within NN, making it a very exciting place to be.
Purpose
As described above, the Investments track provided an excellent fit for my personality and interests. However, the final factor I found very important is that it offers the opportunity to do something that you not only enjoy, but also benefits others. I believe these goals are a result of the warm and ambitious colleagues I described before. Within investments you manage a large amount of capital and a lot of responsibility is handed to you from day one. NN also places a big emphasis on positively influencing society and facilitating a more sustainable future. For example, I am currently working on integrating Environmental, Social, and Governance factors in both the quantitative and qualitative aspects of the investment process of our Multi-Asset team.
Overall, I have met amazing people during my journey at NN so far. It provided me with an amazing work environment, particularly important in these challenging times to enter a new position. If you think the NN Traineeship or the Investments track is a good fit for you as well, I encourage you to reach out to me at roel.van.broekhuizen@nnip.com or through LinkedIn for more information.