Leestijd:
3
minuten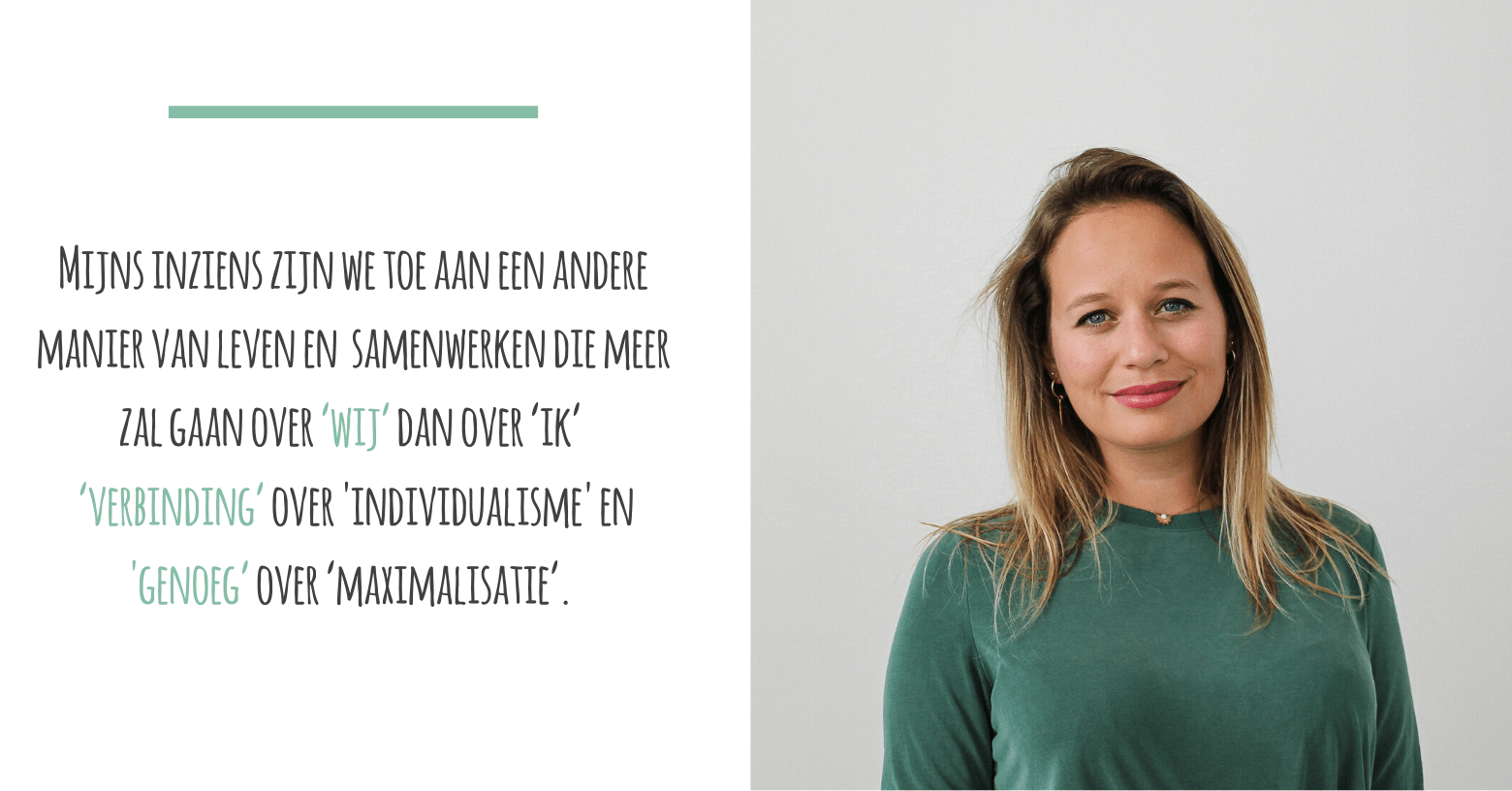 "Wat is jouw visie op leiderschap in deze tijd van Corona?" 
Komende tijd delen we de overpeinzingen die opkomen bij deze vraag van Réal, Els, Piter Jan en Anne, de eigenaren van Young Colfield. Hardop denken over wat leiderschap is, voor onszelf, voor Young Colfield en wat deze tijd daarin losmaakt en betekent.
Els aan het woord: "Gelukkig is Young Colfield een visie gedreven organisatie"
Gelukkig is Young Colfield een visie gedreven organisatie en werken bij ons mensen die zich daarmee verbonden voelen. Dat geeft mij het vertrouwen dat we nog lang en intrinsiek gedreven door kunnen werken en bestaansrecht zullen hebben als organisatie, ook als er wat minder euro's beschikbaar zijn. Zoveel mogelijk winst behalen is nooit een primaire drijfveer geweest, eerder een financiële basis in stand houden die nodig is om gezond te zijn als organisatie. Zodat we de waarde toe kunnen voegen waar we in geloven, in lijn met ons hoger doel "Wij geloven dat mensen vanuit zelfbewustzijn de wereld in beweging brengen".
Een moment om kleur te bekennen
Ik ervaar deze tijd als een momentum waar het 'oude systeem', onze oude manier van doen, onvermijdelijk op zijn einde loopt. Het oneindig moeten groeien, op het excessieve af, altijd weer meer, 24/7 'aan moeten staan', roofbouw plegen op onze planeet en onszelf. Dat is niet houdbaar, niet gezond, niet duurzaam. Wat mij betreft is dit een ideaal moment om bewust te kiezen en een nieuwe weg in te slaan met elkaar. Corona geeft ons de urgentie en de mogelijkheid om dat ook daadwerkelijk te gaan doen. Mijns inziens zijn we toe aan een andere manier van samenwerken en leven die veel meer gaat over 'wij' in plaats van 'ik' en meer over 'verbinding' en 'genoeg' in plaats van 'individualisme' en 'maximaliseren'. Wederkerigheid, waardevermeerdering en duurzaamheid als uitgangspunt in plaats van concurrentie, schaarste en uitputting.
Wat mij betreft biedt deze crisis Young Colfield de kans om hierin voorloper te zijn: om nieuwe manieren van samenwerken en organiseren uit te proberen en te onderzoeken. Ons niet slechts richten op opbrengst in euro's (die ik overigens erken als noodzakelijk voor een gezond bedrijf), maar ook kijken naar opbrengst in de vorm van impact. Wat willen wij bijdragen aan de wereld met onze organisatie? Wat voor organisatie willen wij zijn, wat klopt? Een moment om echt kleur te bekennen.
En dat gaat het vooral om de juiste intentie 
Openheid, vertrouwen, verbinding, flexibiliteit. En dan het dus niet om de 'one size fits all' oplossing of om een waarheid die wij in pacht hebben. En hoe we dit gaan doen, kan ik je nu niet vertellen. Want dit gaat op allerlei manieren ter plekke ontstaan. En het zal steeds kloppen omdat we het altijd vanuit diezelfde intentie met elkaar zullen onderzoeken. Wat werkt, wat is mogelijk? Met vallen en opstaan. Steeds weer. Zelfbewust. En dat zal best een uitdaging zijn, want de angst vliegt je om de oren als je de tv aanzet of de krant openslaat. En we zijn allemaal mens: zo staat onze collectief ingesleten behoefte aan controle soms vertrouwen in de weg. En dan toch steeds weer durven kiezen voor vertrouwen, dat is wat mij betreft de weg.
Dus zelfs als de 'shit will hit the fan', geloof ik dat we dit met elkaar (met heel Young Colfield) in alle openheid en transparantie gaan fixen. Met de juiste intentie, alles bespreekbaar maken, samen schouders eronder. Dat we onszelf en elkaar dan nog gaan verrassen met wat er vanuit zo'n houding mogelijk is. Ik merk dat ik er zo'n diep vertrouwen in heb dat we hier met elkaar uitkomen, dat ik me eerder dankbaar voel voor dit besef, dan dat ik angst ervaar.
Nu kunnen we echt kleur gaan bekennen, laten zien wat we waard zijn, nu wordt het écht interessant en spannend. Er zijn zoveel nieuwe dingen te leren en te ontdekken, gewoon door te doen en te proberen, altijd vanuit die basis van vertrouwen.