Leestijd:
3
minuten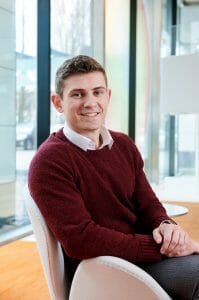 Name: Koen Durlinger
Track: General Management
Studied: International Economic Relations
Trainee year: 2018
Deciding on where to work, many factors have to be taken into account. Apart from tangible aspects such as salary and the number of holidays, there are less tangible aspects, such as work environment. It is more of a feeling, a vibe, a sort of magical dust that can enhance employee involvement, or break it completely.
Let's cut the noise out. I don't mean the physical working environment. Yes, we have one big office garden – not a fan – with all the hip and cool stuff surrounding it such as ping pong tables, dart boards and football tables – definitely a fan – but I don't mean that. It's the environment created by people. How we treat each other, how work is organized and how challenging your environment is. In my opinion, NN offers an ideal mix between comfort and pressure. Let me enlighten you why.
Comfort
When you first enter a company you want to feel at ease, to feel comfortable. NN Group realizes this through a combination of multiple factors. First, there is a smooth onboarding. This is taken care of by trainees from previous years who organize an entire introduction week for you to get a first good overall glance at the company. Second, the focus on training and development expand the situations in which you feel comfortable further and further. Third, here at NN Group people recognize and value the good work you put in. Feedback is direct and transparent, but so is appraisal. Fourth and last is the work-life balance. The ability to work from home, be on the road for the company or let you start a bit earlier to leave in time for soccer practice, cannot be underestimated.
Pressure
Diamonds are made under pressure. You can't expect to grow if you don't experience pressure every once in a while. And exactly this dosed pressure is what you will find at NN. As a trainee you're invited to take initiative while, simultaneously, managers will give you a push in the right direction to make sure you're on your a-game. This leads to several projects next to your core assignment and different levels of responsibility per project, creating a natural type of pressure to meet deadlines, schedule work accordingly and keep different teams aligned. And sometimes all those projects come together in weeks where the diamond really gets its shape.
Whether it's the week before an event you're organizing, prioritizing your backlog as product owner, or wrapping up a report that needs to be published for external communication: the pressure will be on. Of course not all the time, because times of pressure alternate with calm periods.  Ultimately, you control your agenda and determine the degree of hecticness.
Right for you?
The combination of comfort and pressure enables you to work on yourself and your goals, while also delivering great work for the team. Your training and healthy work-life balance will set you up for the times of pressure. While during those times you get the recognition for the hard work and good results you're showing.
However, if you're only looking to chill from 9.00 to 17.00 or want to enter the infamous magic carousel, this might not be for you. Too bad though, because we're on our way to become really pretty diamonds, and you could become one too. Hit me up if you want to know more about that: koen.durlinger@nn.nl
Ben jij hoogopgeleid talent, bijna afgestudeerd en op zoek naar een traineeship, business course of inhousedag? Of hulp nodig bij de zoektocht naar jou eerste droombaan? schrijf je dan in voor onze Talentpool!
NN Group Traineeships